Magic
Please add an image!
Level
23
Seed Cost
$9,750
Yield
12
Value
$19,200
Experience
250 exp
Grow Time
24:00:00
Withers In
24:00:00
Description
This plant requires careful attention, but excels under the right conditions. It grows slowly and produces huge, bulbous crystals that are used for physical healing and in hexacore microprocessors.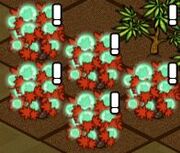 Ad blocker interference detected!
Wikia is a free-to-use site that makes money from advertising. We have a modified experience for viewers using ad blockers

Wikia is not accessible if you've made further modifications. Remove the custom ad blocker rule(s) and the page will load as expected.