This Ancient Strain of hemp is still in use by Aboriginal shamans. Modern medicine also has an interest in this plant, as it is a powerful pain-killer and aphrodisiac with no side effects or addictive properties.
Seed Cost: 5,970
Yield: 2
Value: 10,000
XP: 95
Grow Time: 24:00:00
Withers In: 24:00:00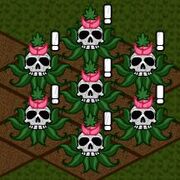 Ad blocker interference detected!
Wikia is a free-to-use site that makes money from advertising. We have a modified experience for viewers using ad blockers

Wikia is not accessible if you've made further modifications. Remove the custom ad blocker rule(s) and the page will load as expected.